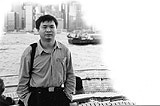 学习经历 / EDUCATION:
1988年湖南常德师范学校毕业。
1991年湖南省高等教育自学考试数学专科毕业(国防科技大学主考)。
1993年湖南省高等教育自学考试数学本科毕业(国防科技大学主考)。
1997年郑州大学毕业,获硕士学位。
2000年中科院系统科学研究所毕业,获博士学位。
1988.6 Hunan Changde Middle Normal School

1993.12 B.S. Hunan Province Higher Educational Self-studying and Examining Steering Committee (National Defense University of Science and Technology Is In Charge of Examinations).
Major: Mathematics

1997.7 M.S. Zhengzhou University.Major: Fundamental Mathematics.

2000.7 Ph.D. Institute of Systems Science, Academy of Mathematics and Systems Science, Chinese Academy of Sciences.
Major: Control Theory.
工作经历 / PROFESSIONAL CAREER:
1988.7 -1990.8 湖南省安乡三中 仪管员
1990.9 -1993.8 湖南省安乡县安造乡教育办 小学教师
2000.9 -2002.4 清华大学 博士后
2002.5 - 中国科学院系统科学研究所 助理研究员
1988.7-1990.8 The Third Higher Middle School, Anxiang County, Hunan Province Teacher

1990.9-1994.8 Teaching Office at Anzao Xaing, Anxiang County, Hunan Province Teacher

2000.9-2002.4 Department of Electrical Engineering, Tsinghua University, Beijing Postdoctoral Fellow

2002.5- The Institute of Systems Science, Academy of Mathematics and Systems Science, Chinese Academy of Sciences Assistant Professor
国外访问经历 / VISITING POSITION:
香港大学(5/2000-8/2000)
香港城市大学(10/2002-7/2003)
2000.5-2000.8 The University of Hong Kong

2002.10-2003.7 The City University of Hong Kong